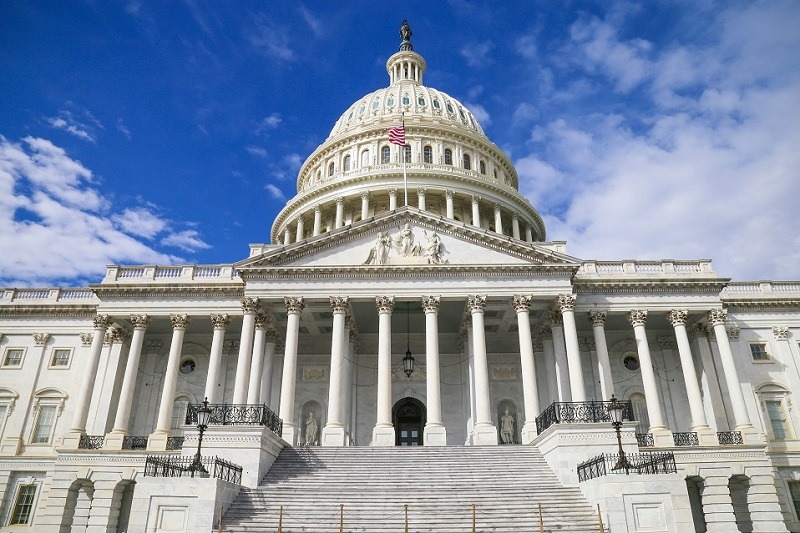 Republicans are poised to remain the majority in the U.S. Senate while Democrats have won control in the House of Representatives. This will likely mean political gridlock for the next two years, which, historically, has also resulted in higher total returns for U.S. stocks. However, investors should not be rushing to upend their current investment plans based on the midterm election results.
Republicans Keep Control of the Senate
Heading into the election, Senate Republicans held a very narrow lead over Senate Democrats (51 to 49). A total of 35 seats were up for election (nine Republican, 24 Democrat and two Independent). Democrats hoped to win two seats and gain control of the Senate, though most projections had Republicans maintaining a narrow majority.

Election Update:
As of this writing, 32 of 35 Senate races had been called, with Republicans having won an additional two seats (winning Indiana, Missouri and North Dakota, while losing Nevada).
Republicans hold a narrow lead in the two undecided races (Florida and Mississippi – which is going to a runoff), leaving Republicans with the potential to add two more seats.
Democrats Win Control of the House
Given the two-year term for members of the House of Representatives, all 435 seats were up for election, with the House majority to be decided by the party with at least 218 seats. While all seats were up for election, the Cook Political Report (a non-partisan election handicapper) put the number of competitive races at only 75 (as defined by races considered to be a toss-up or only slightly leaning toward one party).
Prior to the election, Republicans held a 240-195 edge over Democrats. In the days leading up to the election, most projections had Democrats winning the House majority, with estimates generally ranging from a net gain of 25 to 45 seats.
Election Update:
 As of this writing, 426 of 435 House races had been called, with Democrats gaining control of the House. This will mark the first time Democrats have held the House majority in eight years.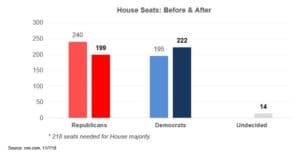 Political Implications
The most immediate impact of the midterm elections is that the Democrat-controlled House will serve as a check to the Republican-controlled Senate and President Trump, with legislative gridlock a likely outcome. In the aftermath of the elections, making individual tax cuts permanent ("Tax Cuts 2.0") and overhauling the Affordable Care Act become increasingly unlikely. The elections' resulting impact on hot button issues such as immigration, health care, and infrastructure spending remains unclear. A Democrat-controlled House may result in further political investigations, though Democratic leadership appears wary to pursue impeachment proceedings against President Trump, particularly given that impeachment would require a two-thirds Senate vote for removal from office.
Market Implications
While Democrats fared worse than anticipated in Senate races, election results were generally in line with prognostications. Equity markets reacted positively to the results, gaining nearly 1% in early trading on Nov. 7.
From a historical perspective, U.S. stocks (S&P 500 Index) have typically performed well in the year following midterm elections, regardless of the party in control of Congress.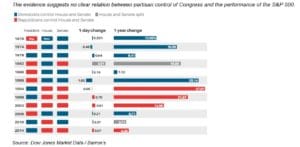 In addition, U.S. stocks (S&P 500 Index) have historically thrived under political gridlock.
Conclusion
While the historical data shows that U.S. stocks have fared well in both the year following midterm elections as well as during periods of political gridlock, we would strongly caution investors against making reactive, tactical allocation changes in light of strong historical U.S. stock performance. It bears noting that U.S. stocks have already enjoyed an extended period of significant gains, with the S&P 500 Index having annualized at 11.9% over the past 10 years, through Sept. 30, 2018, which has sharply outpaced non-U.S. markets over that same period (MSCI EAFE 5.9% annualized, MSCI Emerging Markets 5.8% annualized).
We continue to emphasize that investors should adhere to a well-constructed, diversified investment portfolio anchored to long-term goals, risk tolerance, and time horizon.
If you have questions about what your portfolio should look like, please reach out to us directly, 770-368-9919, or email Cliff, [email protected]; Kevin, [email protected]; or Kathy, [email protected].
Disclosure
This article is intended for the exclusive use of clients or prospective clients of C.W. O'Conner Wealth Advisors, Inc. Content is privileged and confidential. Any dissemination or distribution is strictly prohibited.  Information has been obtained from a variety of sources believed to be reliable though not independently verified. Past performance does not indicate future performance. All information contained herein is believed to be correct, but accuracy cannot be guaranteed. Past returns are not indicative of future results. Comments and general market related projections are based on information available at the time of writing, are for informational purposes only, are subject to change without notice, and may not be relied upon for individual investing purposes. C.W. O'Conner Wealth Advisors, Inc. and its employees do not provide legal advice and do not provide tax advice outside of the advice given in relation to financial planning and asset management services.  C.W. O'Conner Wealth Advisors, Inc. maintains the necessary notice filings, registrations and licenses with all appropriate jurisdictions.