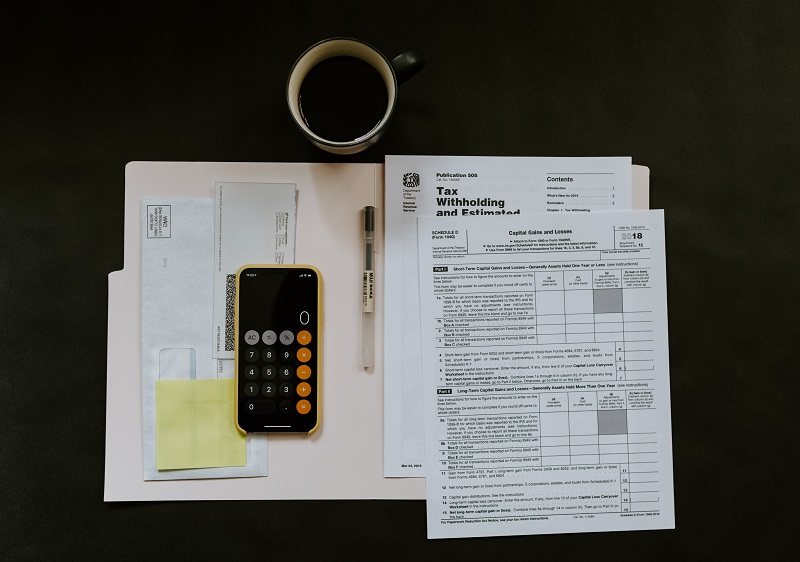 Now that the pandemic relief bill, The American Rescue Plan Act, has been signed into law, the Biden administration's attention will likely turn toward a topic he discussed on the presidential campaign trail: taxes. As the White House considers how to pay for future policy programs meant to boost the economy, tax hikes will likely be in the mix. What can you expect from future tax reform?
It's likely the White House will propose tax increases that mirror what President Joe Biden shared during his 2020 Presidential campaign, according to several news reports. It's also been reported that tax hikes included in any future package will likely include repealing portions of the Tax Cuts and Jobs Act (TCJA) of 2017 that benefited corporations and wealthy individuals.
Possible Biden tax reform proposals could impact:
Top federal income tax rate for individuals
Social Security (OASDI) payroll taxes
Long-term capital gains and qualified dividends
Itemized deductions
Estate and lifetime gift tax exemption
Corporate income tax rate
What Could Tax Reform Look Like Under the Biden Administration?
President Biden introduced these tax proposals on the campaign trail. It is expected that his administration will push for these in an upcoming formal package.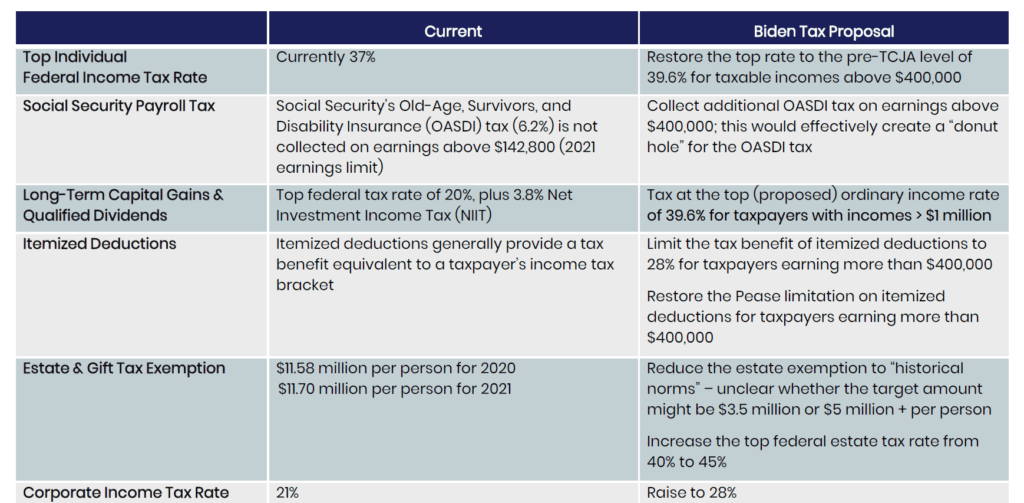 Biden has repeatedly said his aim with tax reform is for people and corporations to pay their fair share in taxes. He has also maintained that he would limit tax hikes to those making more than $400,000 a year.
Individual Taxpayers
Under Biden's campaign proposal, those making above the income threshold will pay a 39.6% income tax rate, instead of the 37% currently in place under the TCJA. Itemized deductions would be capped at 28% of value.
Biden also seeks to tax long-term capital gains and qualified dividends at the ordinary income tax rate of 39.6% on income above $1 million, and to eliminate step-up in basis for capital gains taxation. He also wants to impose taxes on those making more than $400,000 to help shore up Social Security.
He may seek to reduce the gift and estate tax exemption amount to $3.5 million. Also, those subject to the estate and gift tax could see an increase in the top rate from 40% to 45%.
Corporate Taxpayers
Under Biden's campaign proposal, the corporate income tax rate will increase from 21% to 28%. The Biden tax proposal seeks to phase out the qualified business income (QBI) deductions (also called Section 199A pass-through deductions). Corporations with profits of $100 million or higher will have to pay a minimum tax – at least 15% – which will be structured as an alternative minimum tax.
Companies that offshore manufacturing and service jobs to foreign nationals to sell those goods or services to Americans will face a 10% "Offshoring Tax Penalty." Conversely, those companies that make investments to create jobs for Americans and boost the economy can receive a 10% "Made in America" tax credit.[1]
For those who would like a more in-depth look, the Tax Foundation provides a detailed analysis of Biden's tax plan from his campaign.
Timeline for Reform
At this point, there has been no formal tax package proposed by the Biden administration. White House Press Secretary Jen Psaki recently said conversations are happening in Congress and with members.[2]
There are questions as to what exactly will be the in package and if Biden has enough support to pass the tax reform proposals he touted during the campaign, especially as Republicans are unlikely to support tax increases. Some economists and political analysts believe that Biden will have to compromise to garner support from the few influential moderate Democrats in the Senate.
If legislation is passed in the House and Senate, most believe the tax measures won't take effect until 2022.
If you have questions about how the potential tax reform may impact you and your financial plan, please feel free to call us directly at 770-368-9919 or email Cliff, cliff@cwoconner.com or Kevin, kevin@cwoconner.com.
---
[1] https://joebiden.com/wp-content/uploads/2020/09/Buy-America-fact-sheet.pdf
[2] https://www.whitehouse.gov/briefing-room/statements-releases/2021/03/15/press-briefing-by-press-secretary-jen-psaki-march-15-2021/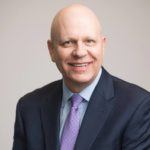 Cliff is the founder and president of C.W. O'Conner Wealth Advisors, Inc. Cliff earned a Bachelor of Business Administration degree in Accounting from Georgia State University.