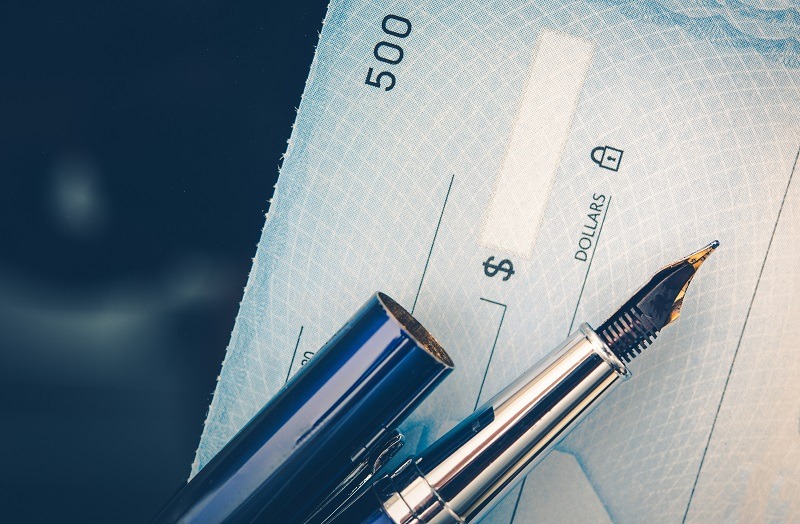 Two popular charitable giving vehicles today are donor-advised funds and private foundations. These vehicles provide tax savings, allowing you to maximize your philanthropic support.
Have you considered starting a private foundation or donor-advised fund? We're hearing a lot about this topic, so we hope this brief overview will help you determine which option may be right for you.
Donor-Advised Funds
A donor-advised fund (DAF) is a giving vehicle administered by a charitable sponsor. This fund can often be established with as little as $5,000. The donation is irrevocable and will belong to the sponsor. Donations made to the fund are tax-deductible, with the deduction amount varying based on the type of gift. As the name implies, once these funds are donated, the donor recommends grants from the fund to other charitable organizations.
Tax reporting is handled by the sponsor. Donors do not have to report charitable giving activity and can remain anonymous.
Private Foundation
A private foundation is a legal entity established by an individual, family, or corporation and is supported by a single funding source as opposed to outside donations. The private foundation is supported by its creator, and the donor retains control of how the funds are invested and how to distribute them. Donations are tax-deductible, again, depending on the type of gift.
Unlike donor-advised funds, private foundations are required by law to make a minimum annual distribution and are responsible for tax filings.
Charitable Impact
Donor-advised funds are more popular that private foundation funds. National Philanthropic Trust reports for 2018 there were more than 728,000 donor-advised funds as compared to approximately 80,000 independent private foundations.
However, private foundations house more assets – $872.65 billion as compared to $121.42 billion in donor-advised funds. Private foundations also give away more money annually than donor-advised funds. In 2018, independent private foundations provide grants totaling $54.03 billion as compared to $23.42 billion for donor-advised funds.
This chart shows a quick comparison of some key aspects of donor-advised funds and private foundations.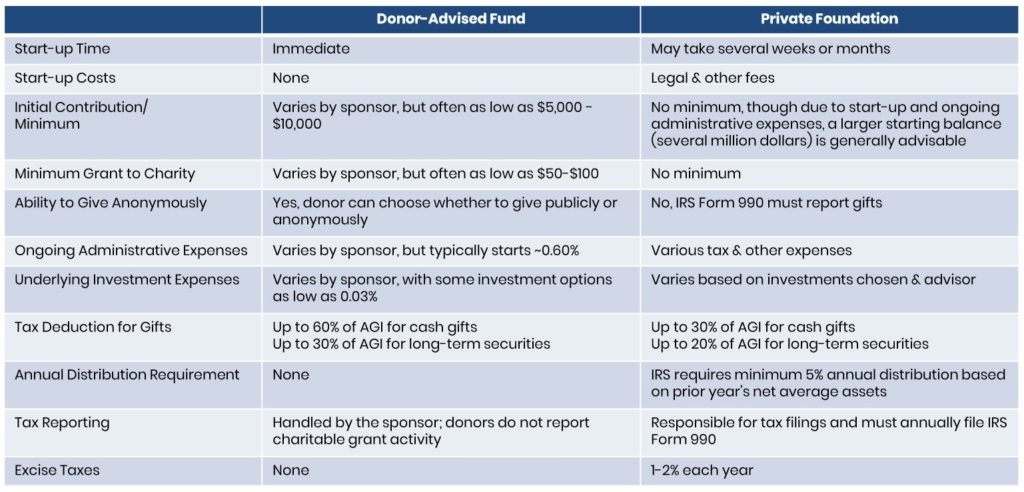 If you're looking to maximize your charitable giving impact, consider using one of these giving vehicles. Everyone's philanthropic goals and tax situation differs, so working with your financial advisor can help you decide which giving vehicle is the best one for you and your family.
Would you like to learn more about donor-advised funds or private foundations? We are here to answer any questions and provide more details about each. Please contact us directly at 770-368-9919, or email Cliff, cli[email protected] or Kevin, [email protected].