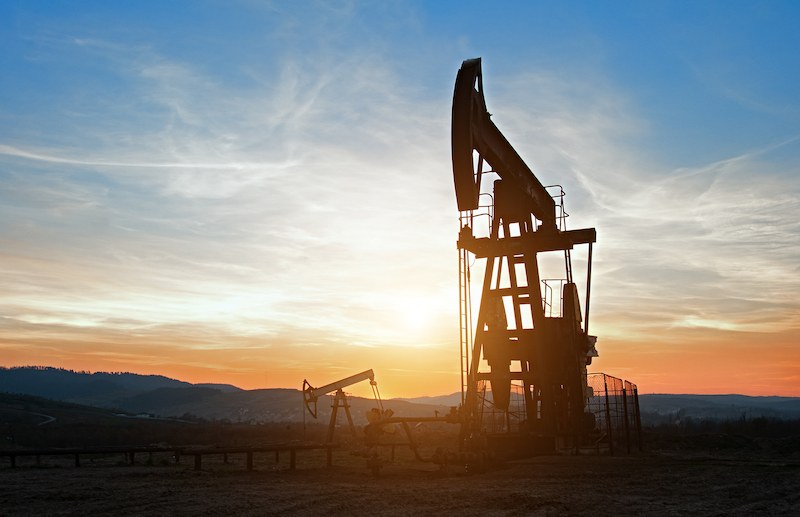 Most major markets have experienced unprecedented volatility thus far in 2020 and assets associated with the energy industry were punished the most. The industry experienced simultaneous supply and demand shocks and the magnitude of each resulting in an unprecedented time for the energy industry.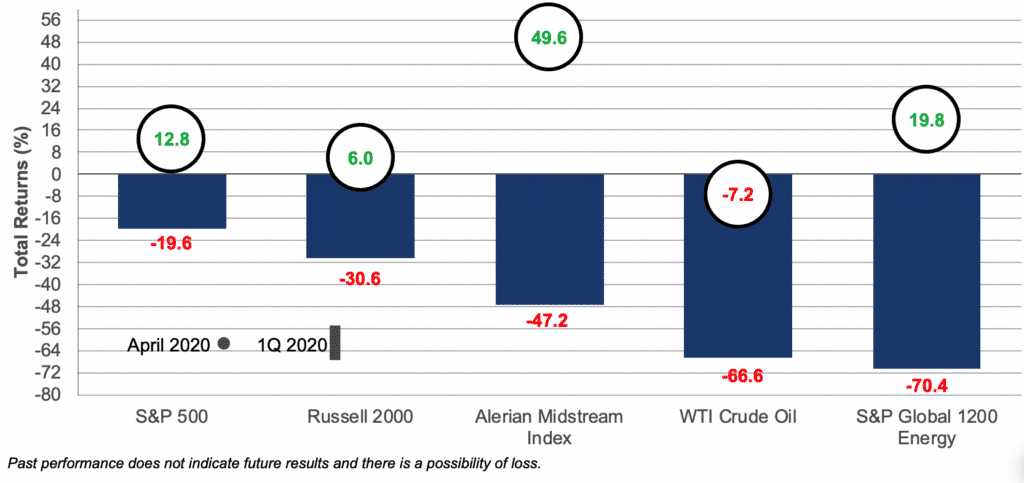 Economics 101: Demand leads price, price leads supply
Demand is down and remains uncertain: As COVID-19 cases accelerated globally, economic activity came to a grinding halt, perhaps most evident in the energy industry. The International Energy Agency (IEA) forecasted a drop of 9.3 million barrels a day (mb/d) year over year from 2019. In April alone, the IEA estimated a 29 mb/d drop2. For context, the decline retraces April 2020 oil demand to levels last seen in 19951. These demand-side concerns were a primary driver of falling oil prices for the first two months of the year. Price volatility was exacerbated when the Organization of the Petroleum Exporting Countries (OPEC) and Russia failed to come to terms on a supply cut in early March.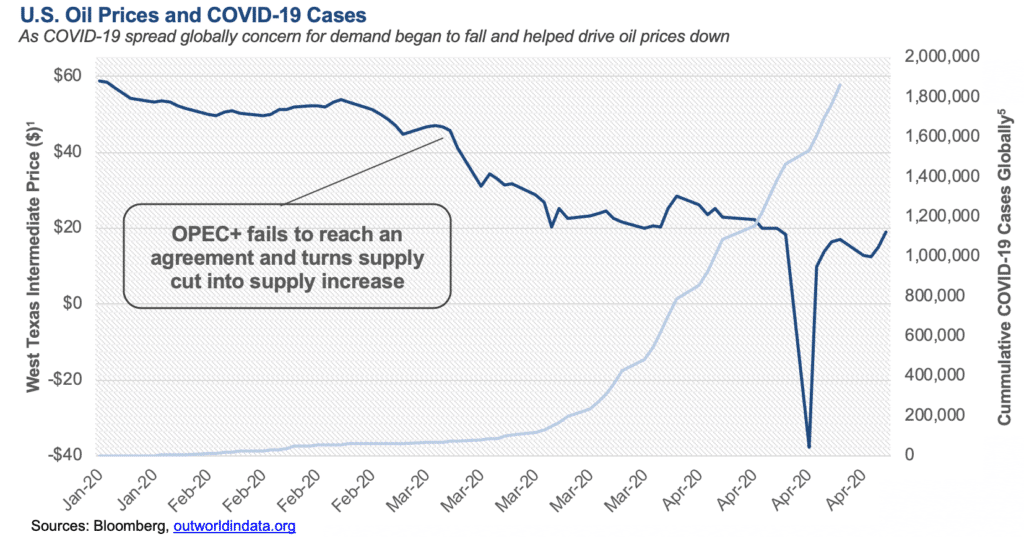 Supply is up, and help is on the way: Rather than a rational and expected cut in global oil supply, the OPEC+ (OPEC and Russia) meeting in early March resulted in an increase in supply for April delivery. This sent energy markets into a tailspin causing a number of imbalances as global supply continued to grow, storage shortages became common and demand remained weak.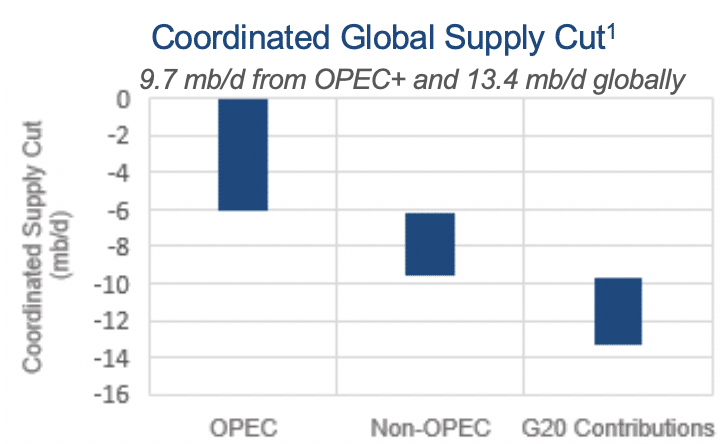 A clear indication of just how stark this imbalance of supply and demand became was when the May contract of West Texas Intermediate (WTI) futures traded at a negative price on April 20 as speculators fled for fear of actually taking delivery of physical oil without storage capacity. Cooler heads prevailed on April 12, when OPEC+ came to an agreement on a supply cut of 9.7 mb/d which began on May 1. This is the single largest supply cut out of OPEC+ since its formation in the 1960s1. When coupled with other coordinated efforts from the G20 and non-coordinated efforts from countries like the U.S. and Canada, the supply reductions should help stabilize prices.
Making the right connection — Commodity prices and midstream
Price volatility in oil markets made its way into other parts of the energy industry, including the midstream segment. Midstream businesses are involved largely with the transportation of natural resources from the location of production to a refiner or consumer. The majority of this transportation occurs over long-haul pipes that move commodities, including crude oil and natural gas, from source to destination.
In the past, much was made from the fact that midstream revenues are not directly related to the price of commodities. While this is true, many have used this notion as a license to disassociate the two completely, an unfair characterization. Midstream business are related to the price of commodities through supply. The higher the price of a commodity, the more businesses are interested in producing it. The larger the production, the greater the volume through pipes leading to higher revenue all else equal. The inverse holds true as lower prices beget lower volumes. Modest moves in commodity prices will have little, if any, effect on midstream revenues.
However, moves in commodity prices large enough to compel commodity producers to increase or decrease supply substantially will have a downstream effect on the midstream segment. In recent years, investors swung from disassociating midstream with commodity prices to directly linking them. We would argue the pendulum on either end of the spectrum is incorrect. However, investors voted with their feet in the first quarter selling midstream with the same fervor as anything else related to the price of oil. The Alerian Midstream Index was down 68 percent from peak-to-trough, seemingly in lock step with the fall in WTI prices, leaving the quarter down 66 percent.
Stress-testing earnings and price
One way to examine the price movements of midstream assets is to evaluate the earnings of those businesses. The earnings of a business and the price of a security should be associated with one another over longer time periods. Theoretically, an investor should be willing to pay more for a business as the earnings from that business increase and the opposite holds true for declines. This relationship can be seen in the last three bear markets, but also holds true dating back to the 1920's.
The average peak-to-trough correction of the S&P 500 since 1929 is 26 percent1 and the average peak-to-trough earnings decline since 1929 is 29 percent3. While not perfectly aligned they are certainly related.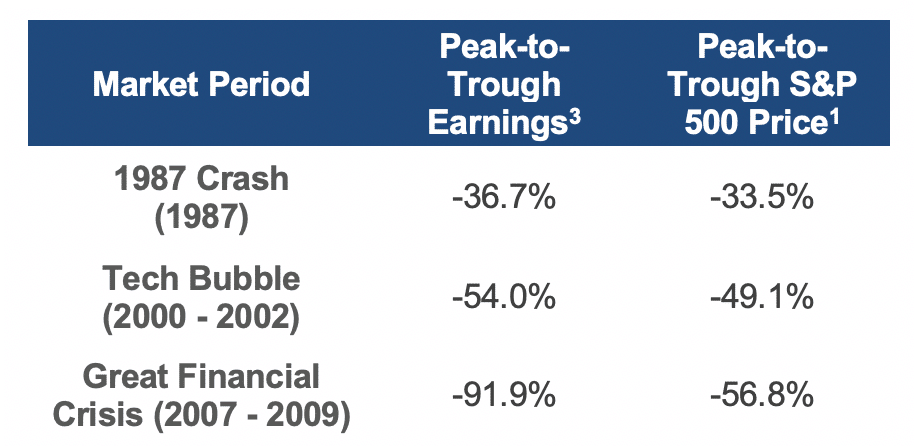 During the first quarter the Alerian Midstream Index experienced a peak-to-trough decline of 68 percent. Based on the relationship described above, that price decline implies earnings should fall commensurately. To gain some insight into the underlying earnings impact on the midstream space as a result of recent market volatility, we worked with an active midstream investment firm to forecast their anticipated impacts on earnings. They stress-tested their portfolio under the following adverse scenario:
WTI $10 and $2 gas through the end of 2021
U.S. volumes fall by 40 percent in 3Q 2020 and stay flat until 2021 (U.S. crude oil production is 7.8 mb/d beginning 3Q 2020)
Refined product volumes decline 10 percent in 1Q 2020, -25 percent in 2Q 2020, -15 percent in 3Q 2020, and are flat in 4Q 2020 and thereafter
This scenario4, while far worse than what they anticipate to happen, resulted in a fall of estimated earnings by 11 percent in 2020 and of 17.3 percent in 2021. There is no question that an earnings decline of 11 percent in 2020 is material, but it does not reconcile with a price decline of 68 percent. Either the price has overreacted or the earnings impact has been massively underestimated. We find it far more likely that in a period of distress and uncertainty that price may surpass a logical readjustment. In the very short-term since the Alerian Midstream Index bottomed on March 18, we have indeed seen a divergence between the price of oil and the price of the Alerian Midstream Index. Since March 18through the end of April the Alerian Midstream Index is up 90.7 percent while a barrel of oil traded lower by 7.5 percent.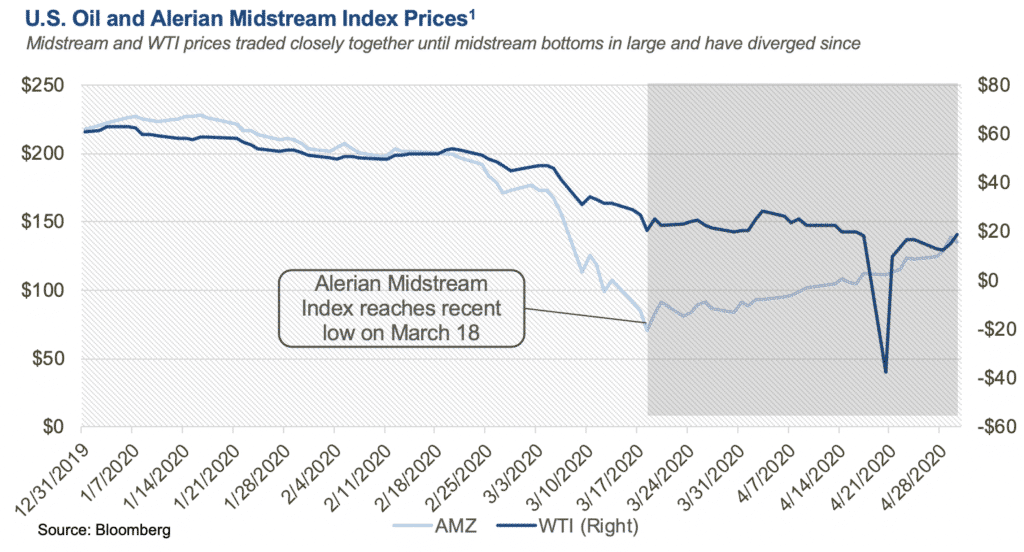 Where we go from here
The unprecedented demand destruction from COVID-19 and the supply-side spats between Saudi Arabia and Russia have led to price volatility in oil markets never before seen. This volatility has created new risks and opportunities that were unlikely on the minds of investors in December 2019. Recent actions from global oil producing countries to cut supply have only begun to take hold in May and cumulatively will have a material effect to offset demand destruction and work to stabilize energy prices.
As we look beyond the price of oil and to the impacts on the various segments of the energy sector, it has clearly been a difficult time for current owners of midstream assets. We fully recognize any level of ownership in midstream has been detrimental to portfolios. However, we believe the market has likely overestimated the impact on these businesses. With a more in depth review of earnings we see a different picture emerging than the one painted in the first quarter of 2020. Nonetheless, that does not absolve these businesses of future risk. With demand still uncertain as the world grapples with COVID-19 and supply at high levels, the opportunity for short-term risk is prevalent.
Prospectively for those investors with a long-term view we believe midstream energy presents an opportunity from both a return and diversification perspective. The midstream segment remains a vital component of American energy infrastructure and global commodity usage. The modern economy would not function without the hydrocarbons the midstream segment transports. Additionally, we believe the short-term resiliency of these businesses has been underestimated and the asset class offers compelling cash flow dynamics to many yield-starved investors finding fixed income and broad equity yields less compelling. The combination of greater flexibility in balance sheets, compelling yields adding to return potential and depressed prices provide a foundation for investors to be rewarded over the long-term.
If you have questions, please call us directly at 770-368-9919 or email Cliff, [email protected] or Kevin, [email protected].
1Bloomberg
2International Energy Agency (IEA), https://www.iea.org/topics/covid-19
3http://www.econ.yale.edu/~shiller/
4https://tortoiseadvisors.com/media/3501/special-podcast_stress_test_brian-kessens-040720.pdf